Words from a different perspective - complementing Giselle's Original Works of Art
Kahelu's Poetry Menu:
Mirage | Behind the Mask | Among Friends | The Guitar Player - Sounds | Peace
The Recording Studio | Prized Possession | Steel City | Sounds of Colour
Cut Emotions | Extreme Landscape | Acupuncture
More Poetry and Paintings inside Giselle's Coffee Table Book - Blended For Intensive Flavour
Preview the book - click Coffee Table Book
---
Painting and Poetry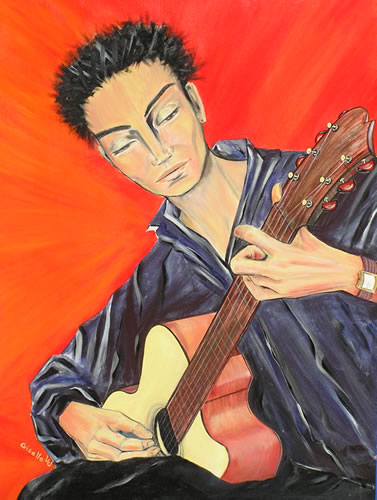 The Guitar Player - Sounds
Gentle touch, hard surface, sweet sounds
capable of drastic contortions
extracting, forcing, coaching lingering emotions
to hang in mid air
it's not fair - why can't I
Fingering in timeless motion, invading sounds
seeping deeper into flesh not touched before
building a nest of emotions sprouting through
ones entity, never to leave again.
Please don't stop, sweat sounds
stop teasing, play on forever
nothing else matters
what else is there
Sounds

by Kahelu - cyberspace poet
Pre-view Giselle's "Coffee Table Book" > Blended For Intensive Flavour
---
More Poetry:
Phil Brown - Brisbane - Poet - Journalist - Working as a journalist, I am specialising in the arts and entertainment and more recently in the field of travel journalism.
At present I am a senior writer for Brisbane News, the News Limited Brisbane lifestyle magazine where I write on the arts, entertainment and travel.
---