Art Trail Directory - Australia
Art Trails - Art Galleries - Art Spaces - Artists Open Studios
Art Trails are a convenient and enjoyable way to enjoy art.
Driving or walking from one Art Gallery to the next - view the art - compare the art - buy the art - and enjoy a coffee - wine or good meal on the way.
Some of the trails cover a great distance - while others are designed to explore a city or just a specific suburb, a gallery precinct art trail.
Any type of Artist Trail is welcome on this Directory - Contact Us
Qld - Queensland: Art Trails:
The Scenic Rim - South East Queensland
The Gold Coast Hinterland Art Trail starts at Canungra, home of Art Studio and Gallery Giselle
Art Studio Giselle - Artist
Gold Coast Hinterland - Witheren - Canungra - Scenic Rim
Giselle, a professional Artist for over 30 years -Watercolour - Acrylic - Graphite - Mix Media.
Original Works of Art for sale - Giselle's Art Studio - Gallery is Open by Appointments only.
Creative Art Classes - Tuesdays and Wednesdays from 9:30am to 1:00pm.
Giselle is focusing on individual teaching within a class creative environment.
For more information, please click > Giselle's Art Classes
Giselle's Art Studio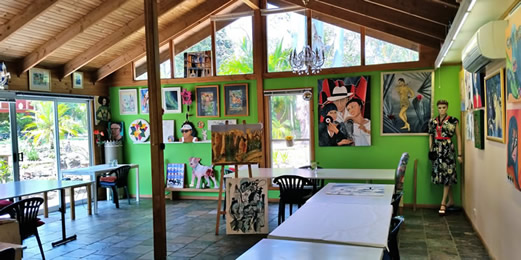 Gold Coast Art Trail - galleries are invited - listing is free

Online Art Galleries | Worldwide Art Gallery Guide and Directory
Call Giselle: 0407 630 776 ... or E-mail