Some of the trails cover a great distance - while others are designed to explore a city or just a specific suburb of a city, a gallery precinct art trail.
Canungra - Gate to the Scenic Rim - (former Beaudesert Shire )
.. see also Canungra info directory
Coming from the Gold Coast, passing through Canungra, or turning off before at the Henry Robertson Drive or the Goat Track up to Mount Tamborine to visit countless Galleries - Studios - Cafes and Shops you may want to make an appointment with a Private Art Studio Gallery :
Art Studio Giselle - Artist
... just outside Canugra on the Beechmont Road, travelling towards Beechmont or Binna Burra
Giselle, a professional Artist for over 30 years -Watercolour - Acrylic - Graphite - Mix Media.
Original Works of Art for sale - Giselle's Art Studio - Gallery is Open by Appointments only.
Creative Art Classes - Tuesdays and Wednesdays from 9:30am to 1:00pm.
Giselle is focusing on individual teaching within a class creative environment.
For more information, please click > Giselle's Art Classes
Giselle's Art Studio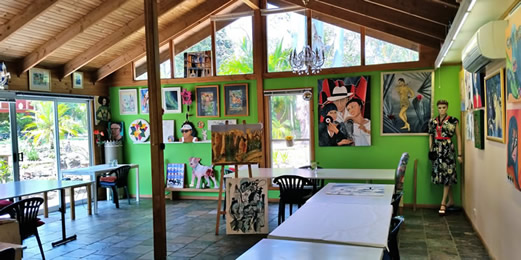 From Canungra, you can drive to :
Mt. Tamborine - Beechmont and Binna Burra - Lamington National Park - Beaudesert - Tamborine Village - Beenleigh
.. continue to Beechmont ...
Take a drive from Canungra up to Beechmont, on the way visit Art Studio Giselle on 3155 Beechmont Road, continue up the Mountains, admire the great view, see the hang gliders lift off, and while you are up there, visit Binna Burra at the far southern end of Beechmont and visit the: Laurel Cottage Garden Cafe and Restaurant - and view some great works by local Beechmont Artist.
Hinze Dam- Numinbah Valley
Coming from the Gold Coast, go straight ahead towards lower Beechmont - Advancetown and see the turn off to the Hinze Dam.
You will be rewarded with great sights and a great Cafe and Restaurant with even better views, no wonder the Cafe is called View Cafe.
.. for direction go to Hinze Damm - View Cafe
Here is just one of the beautiful views :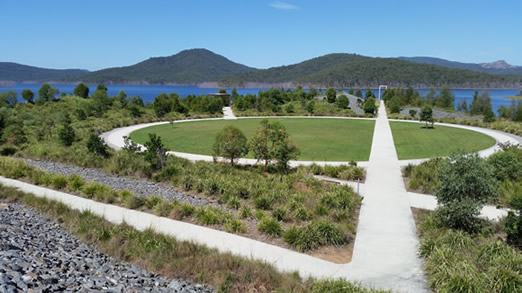 ... coming from Nerang ... turning left from Canungra main Road, into the Lamington National Park Road will get you right up to O'Reilly's Guesthouse - on the way you will see some beautiful scenery and attraction, such as the " Canungra Valley Vineyards " , which displays some nice paintings.
Both O'Reilly's and Canungra Valley Vineyards display works of Art, well worth a visit ..
Springbrook
... a unique area that offers a diversity of attractions, such as subtropical rainforests, waterfalls, birdlife, native wildlife and some of the most spectacular mountain scenery in Queensland. Great accommodation, restaurants, cafe's and art to see and visit.
Mt Tamborine
On the Mountain - you probably will walk the walk > the Gallery Walk - and please make sure you'll visit all other Galleries not situated on that walk too... and if you have time follow the Mt Tamborine Open Garden Trail.

Beenleigh - Cedar Creek
.. and on the other side of the mountain coming down driving towards Beenleigh - visit the Cedar Creek sculpture park:
Antone Bruinsma - contemporary stone sculpture - Created individually for your space or choose from a range of sculptures available at the Cedar Creek sculpture park. - Beenleigh QLD 4207 Australia - www.stonesculpture.com.au
Beaudesert
Hitting back towards Beaudesert, don't miss the Beaudesert Art Centre in the middle of the Town:
Centre for Beaudesert Shire Arts & Culture - The Centre is a modern flexible artspace located in Beaudesert, Queensland offering state of the art facilities for exhibitions and performances from companies and artists from around the Shire, country and the world. - www.liveatthecentre.com.au
Driving further out West, you will come to Boonah - a must Gallery to see:
Boonah Art Gallery - 3 High Street (Boonah District Cultural Centre Building) - A community Art Gallery is operated by the Boonah Art Gallery Association. New exhibitions are held every two months.
Rathdowney
known for it's Heritage Festival, is linked to Stanthorpe and Tenterfield by the scenic highway drive through the mountains of the border ranges; to Kyogle and Lismore by the Summerland Way; and is within comfortable driving distance of the hinterland national parks and the Gold Coast.
Lost World
... and finally venture out to the Lost World - where Art and Heritage meet ..
Garden Hill at Lost World - Art Gallery 3268 Kerry Road - Darlington via Beaudesert
Map - South / East Queensland - Gold Coast Hinterland - Beaudesert up to Boonah