Art Studio Gallery - Gold Coast inspired themed paintings
Paintings from around the Gold Coast and Hinterland ...
City & Sea Scapes - Beach & Surfing Scenes - Sport & Athletes - Coffee & Entertainment Motives
Gold Coast Theme - Art Studio & Gallery
Giselle - Artist ... painting Gold Coast inspired motifs.
Giselle has had many Solo and Group exhibitions, both overseas and in Australia, but is now concentrating to work from her Home Art Studio and Gallery, painting and teaching. For more information, please click > Giselle's Art Classes
Original Works of Art for sale - Giselle's Art Studio - Gallery is Open by Appointments only.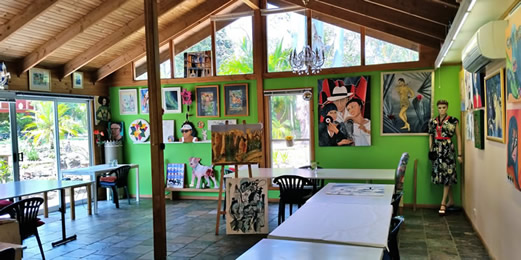 Gold Coast


At the Beach - 1 -

---

... framed work of Art?

Click > Activist Cow

---

---
Call Giselle: 0407 630 776 ... or E-mail