Online Art Galleries -

Art Spaces & Studios
Listings for all art modalities:
Visual arts - drawing - painting - photography - printmaking - textile arts - plastic arts - sculpture - performing arts.
Any type of Art Gallery is welcome - Contact Us
Global Online Menu:
... and Giselle Online Art Shop
Online and Brick and Mortar Art Studio and Gallery
Gold Coast - Queensland - Australia
Giselle, a professional Artist for over 30 years, with vast experience in Watercolour - Acrylic - Graphite and Mix Media.
Original Works of Art for sale - Online or at the Gallery - Open by Appointments only.
Creative Art Classes for beginners and advanced artists, Giselle is focusing on individual teaching within a class environment.
For more information, please click > Giselle's Art Classes
Giselle's Art Studio / Gallery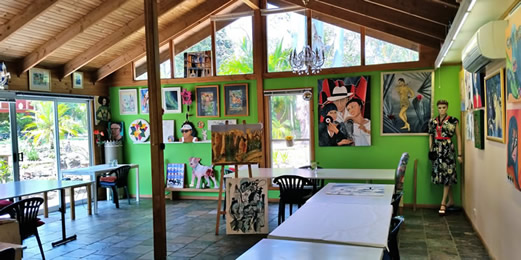 Artists In Cornwall - Online Gallery - Fine art and illustration by contemporary UK artists and illustrators, plus artists resources.
Jeremy Lampkin - Gallery of works by symbolic-gnostic artist Jeremy Lampkin. Subjects include portraits, flowers, oriental art, and The Soul.
Rainforest Artists - Online Gallery dedicated to artists who paint Rainforests and Rainforest wildlife.
The Canvas Art Gallery is an online art gallery offering works of art for Rent or Purchase by established Australian Artists from Fine Art to Indigenous Art.
More Online Art Listings:
Art Resources Directory | Art Therapy Directory | Artist Directory | Artist Open Studios
Call Giselle: 0407 630 776 ... or E-mail