Bicycle Oracle Card - Acrylic Painting 25cm x 30cm
To buy - please contact - $420.00
This Painting is featured in Giselle's Coffee Table Book - click > Coffee Table Book
To buy this painting as a Card, Print, T-shirt, etc. - click > Bicycle
To read this card's meaning, please scroll down.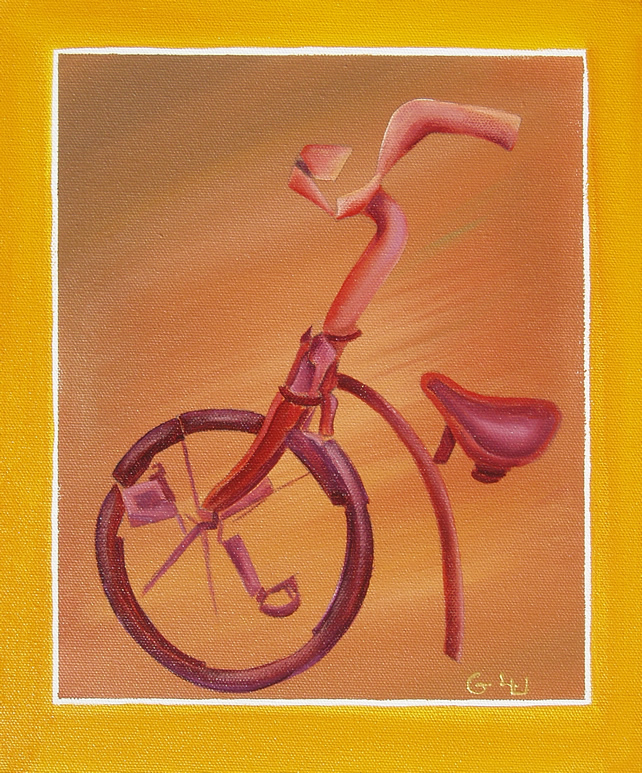 "Bicycle" Oracle Card - Meaning:
Destiny has brought you here ... Does this mean anything? You bet it does .. nothing is ever without meaning. Find directions for what you seek. Use your own discretion to evaluate the meaning of the oracle card as a daily, weekly or monthly representation.
Meaning Keywords:
Self powered - Moving forward under your own power - take control - don't relay too much on others - Be responsible for your own direction - decide your own speed - don't go too fast.
Self powered is the main keynote here.
On a day to day basis it may represent that you simply have to relay less on other people, and reorganise that it is you who has the power to move yourself forward.
This is a very important card. To recognise that it is you, who is responsible, is a lesson many people have yet to learn.
It comes with the realisation, that society doesn't earn you anything, therefore don't blame society that you may have not reached your desired outcomes.
This card is urging you to use your own initiative power and direction to go where you want to go.
If you have been waiting for something to come to you, than now is the time to go for what you have been waiting for.
Remember this great wisdom:
"If you do what you always do, you get what you always get.
If you haven't got what you want to get, you need to change what you are doing.
Get back in the saddle, start peddling, and steer your bike into the right direction.
It's all up to you ...
.. this may be the hardest card to draw, but also one of the most rewarding and powerful one.
Taking responsibility also means being responsible for your own action, don't move blindly forward, have a well defined road map and make sure you know where you are going.
You wouldn't ride your bike blind, would you?
Once you have taken all the right steps, it's surprising, how fast a bike can go.
However, don't forget your helmet ... take care, there is a lot of traffic out there.
by Kahelu - Cyber Oracle, a contemporary Oracle