Emil Nolde - German Expressionist Painter, 1867-1956
German Painter - Artists
Born in Nolde, North Schleswig, Germany - Died in Seebüll, Germany
Emil Nolde was one of the first Expressionists , a member of Die Brücke, and is considered to be one of the great watercolor painters of the 20th century.
He is known for his vigorous brushwork and expressive choice of colors.
Golden yellows and deep reds appear frequently in his work, giving a luminous quality to otherwise somber tones.
His watercolors include vivid, brooding storm-scapes and brilliant florals.
He was born as Emil Hansen on a farm in North Schleswig near the village of Nolde.
Even as a boy he drew and painted.
From 1902 he called himself after his birthplace. Between 1884 and 1891, he studied to become a carver and illustrator in Flensburg .
From 1906 to 1907 he was a member of the artist group Die Brücke ( The Bridge ).
Hitler rejected all forms of modernism as " degenerate art ", and Nolde's work was officially condemned by the Nazi regime.
Until that time he had been held in great prestige in Germany.
Over 1000 of his works were removed from museums.
Some were included in the Degenerate Art exhibition of 1937.
He was not allowed to paint - even in private - after 1941 .
Nevertheless, during this period he created hundreds of watercolours.
He called them the "Unpainted Pictures".
Apart from paintings, Nolde's work includes color lithographs and watercolor paintings of various sizes, including landscapes, religious images, flowers, stormy seas and scenes from Berlin nightlife.
A famous series of paintings covers the German New Guinea Expedition , visiting the South Seas , Moscow , Siberia , Korea , Japan , and China .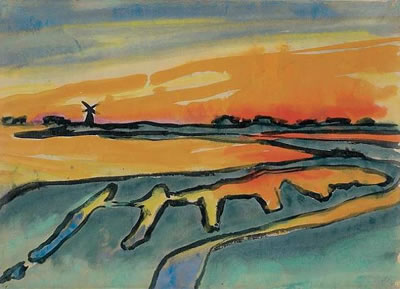 Call Giselle: 0407 630 776 ... or E-mail