Art Magazine Project - Artist's Palette No. 38 - Giselle's Articles
Article about Giselle, and an acrylic painting demonstration.
The article is reflecting on a previous exhibition, called "Close and Personal".
the 2. article is the The Necklace, a painting demonstration.
---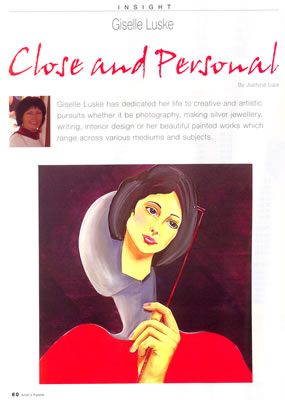 Article - Close and Personal
... by Justyna Lupa - Artist Pallette
Giselle Luske has dedicated her life to creative and artistic pursuits whether it be photography, making silver jewellry, writing, interior design or her beautiful painted works which range across various mediums and subjects.
From the young girl drawing figures in the sand to the experienced artist, Giselle Luske has made it her business to be as creative as a person can be. And her creativity and zest for life not only inspire her students and all who meet her, but also make for some beautiful and unique work.
"As a little girl growing up in Germany, I was intrigued by oversized faces, which I used to draw with a long stick in the sand," says Giselle, when asked about her first artistic attempts. Her parents recognised her creativity and fostered it by buying her art supplies, which included her very first set of oils paints when she was just 12. Her teenage years were spent copying the works of favourite artists like Kandinsky in a constant effort to learn different techniques.
This was followed by interior design and art studies after graduating from school, and a successful career in corporate design. All the while, however, Giselle was still doing her own work and finding her 'voice' as an artist. "Meeting my future husband only increased my creativity," she declares, "and I added photography and writing to my list of ways to express myself."
In the mid-1970s the couple first travelled through Australia for over two years and then on returning to Germany, they published some of their work in magazines. But Giselle says that Australia had them spellbound so much so that not long after in 1978, they packed up their belongings and moved here permanently.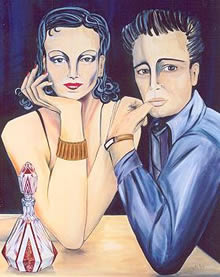 After just a few months they found their dream property, which came complete with a lovely old house in what was then the remote Gold Coast Hinterland. And just a few years later the couple had their son, Marly, who has taken after his mother in artistic talents and is now a well-known guitarist, running his own music studio in Brisbane, the Alchemix Recording Studios.
"After a couple of years of parenting, I went into painting full-time," Giselle continues, "exhibiting in group exhibitions, starting creative art classes and intuitive painting workshops also teaching in the late ' 80s."
In the time that she's been painting, Giselle's work has varied considerably. Her first solo exhibition was a series of over 50 magnificent large watercolours at the Bruce Watling Gallery. They were inspired by flowers and rainforests, and while they were all realistic in style, they had an element of fantasy and magic to them - traits that are still a part of her work today and each one providing her with more inspiration and ideas for the next.
Since that first show, she has had many others, all very successful, both solo and in groups. A number of these have been held in her own studio gallery which also mounts shows by invited artists, as well as displaying the works of students.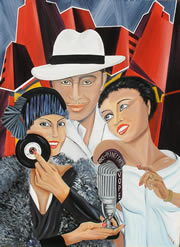 There's no doubt that her current body of work has a very decadent aura, but it also has an element of mystery and fantasy to it. The scenes are reminiscent of the 1920s and '30s when flappers gorgeously dressed along with men impeccably suited frequented nightclubs filled with tobacco smoke, flirtation and suggestive glances.
"My current favourite subject material relates back to my grandmother and the stories she has told me," Giselle explains, "and it ties in with my love for the Art Deco period." She also describes these intriguing works as a combination of the past and the present with meanings close to her heart.
Unlike her rainforest series, she calls this her "people period" with many of the works featuring the figures and faces in a realistic style even though the characters and scenes are entirely imaginary.
"I really like to capture the elegance, the touch of decadence, the beautiful designs and ornaments in a semi realistic way," she states.
"I bring all that together with images of my grandmother, other relatives and friends - and an item that actually comes from that period and belongs to our family."
Her demonstration artwork (next article) is an example of this amalgamation. She's taken two fantasy figures and given them a distinct 'art deco' feel and incorporated a necklace that she now owns, which was her grandmother's.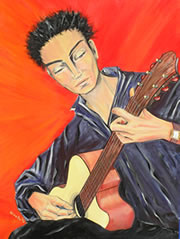 Although these works are done in an expressive manner with acrylics, she still also works in watercolour. "My watercolour techniques are very detailed - and very relaxing," she explains, "whereas the acrylic ones are a lot wilder and more energetic - and often involve music blaring and good coffee brewing."
Painting isn't her only creative outlet as Giselle enjoys passing on her artistic skills immensely, and to this day teaching remains an important channel for her. She holds classes in her studio / gallery twice a week and these give her the chance to share her creativity and passion for acrylics and watercolour, as well as her ability to render subjects quickly by sketching.
These classes are aimed at all students and she especially encourages people who have no previous artistic experience to come along and give it a try.
"Creativity is life in action," she exclaims. "Without it, there would be nothing new - ever!"
Her classes are structured so that students don't have to commit to a term, instead they come when they wish - which is especially useful for beginners as they can find out if they like it without obligation.
When asked what she has planned next in her career, Giselle says that her whole life is a career. She's still traveling on a journey exploring her 'people period', and teaching classes is also keeping her busy. "Life is just too beautiful," she adds. "And, I'm too busy enjoying it!"
Giselle Luske can be contacted at her studio in Canungra, Queensland, by phone 0407 630 776 or email
Or visit her web site www.gallerygiselle.com
- - - end of article - - -
Next Article - Demonstration - Acrylic - The Necklace by Giselle Luske