Phone Oracle - Acrylic Painting on Canvas 30cm x 40cm
To buy - please contact - $460.00
This Painting is featured in Giselle's Coffee Table Book - click Coffee Table Book
To buy this painting as a Card, Print, T-shirt, etc. - click > PHONE
To read this cards meaning, please scroll down.
---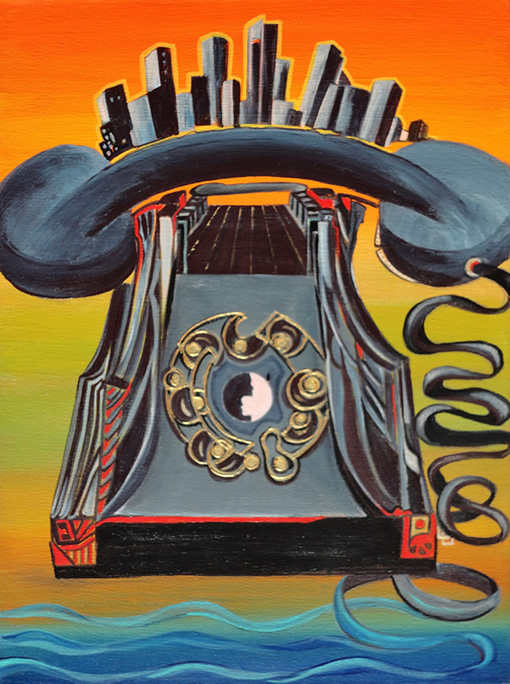 Phone Oracle Card - Meaning:
Destiny has brought you here ... Does this mean anything? You bet it does .. nothing is ever without meaning. Find directions for what you seek. Use your own discretion to evaluate the meaning of the oracle card as a daily, weekly or monthly representation.
Meaning Keywords: Connect - Reach out - Voice your message
On a day to day basis it may represent that you have to focus more on connecting with people around you. Don't isolate yourself. Connect and reach out. Don't take human contact for granted.
Connection is possible on all levels, reach out and enrich your life.
There is no need to only connect with like minded people. Expand your view, people are brought into our surroundings for a reason. Some may enhance your being, some may push your buttons. It's all valuable on it's own levels.
Don't judge people, don't judge contact, every contact has a message. Sometime it tells you what you want to hear, sometimes it tells you what you need to hear. Connection is not limited to your close neighbourhood.
Voice your message, express yourself.
If you have something to say, express it, voice it, write about let people know what is important to you.
Realize, that your message is only one of many, it's simply your perspective on reality, triggered by your accumulated background knowledge of the world you live in. The person next to you, will have a different perspective. Connect and share, connect and receive. Merge perspectives, merge viewpoints, merge realities. After all there is only one truth, love.
Connect and share your love

by Kahelu - Cyber Oracle, a contemporary Oracle