Chair Oracle - Acrylic Painting on Canvas 60cm x 60cm
To buy - please contact - $760.00
Available as Card, Print, T-shirt, etc. - click Chair
To read this card's meaning, please scroll down.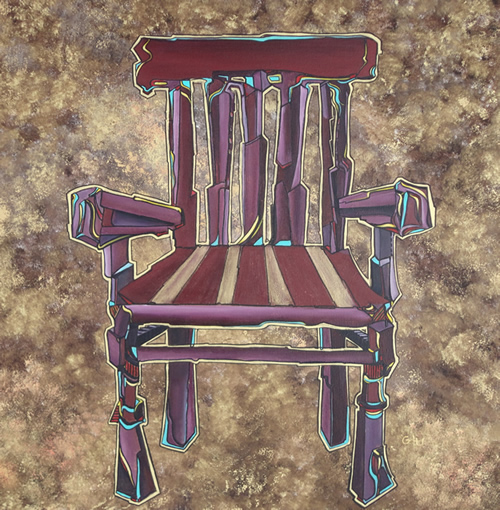 "Chair" Oracle Card - Meaning:
Destiny has brought you here ... Does this mean anything? You bet it does .. nothing is ever without meaning. Find directions for what you seek. Use your own discretion to evaluate the meaning of the oracle card as a daily, weekly or monthly representation.
Meaning Keywords: Relax & Reflect - Take a seat - Take time out - you are invited to sit down and stay for a while..
Take a seat, you have reached a point in your life where you can or should allow yourself to relax and reflect. Rest and reflection is as important as taking action. Look inwards, check your feelings, emotions, aspirations, goals, outcomes and maybe even take some time out, settle down for a moment, you may be too busy for your own good. Life is fast, don't let it run you over ... it is your choice how fast or slow to go.
Relax & Reflect is the main keynote here.
On a day to day basis it may represent that you simply have to take the power in your own hands and decide to take some time out, not because you have to, but because you decided and wanted or needed to.
Sit down and look around, how is your life going; have you over-looked something, have you been fast-tracked without checking if you are on the right track. Are you living your life or are you caught in a rat-race. Taking time out is absolutely essential.
This card is urging you to take time out and sit down. Have a bit of a rest from the hectic lifestyle, it's amazing what can be revealed by simply looking back or around you and see what is going on ... what is really important at this point in time for you.
by Kahelu - Cyber Oracle, a contemporary Oracle
---