Creative Drawing
..... articles collected - written or re-viewed by Giselle
More Drawing Information
Join Giselle's Drawing Classes - Adult Colouring "In" Classes - Drawing Gallery - Sketching - Abstract Line Drawings
---
Creative Drawing

Drawing is an amazing positive life changing activity, and best of all, everyone can learn to draw.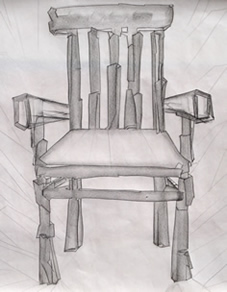 If you have average eyesight, eye-hand coordination, and your handwriting is readable, you have all the skills you need to draw well. The rest is motivation.
But let's come back to the "amazing part" for a moment, what is amazing about drawing?
Drawing will change your life, because as you start drawing you will perceive your surrounds in a different way, it truly opens up your eyes. You will notice positive and negative space, forms, shapes and tonalities in light and dark which you probably have not been aware of before.
Note: click on image to see the completed painting.
Creativity is such a vital part of life, starting to draw will give you an easy way to express your creativity.
In an instant, drawing and creativity can become a meditative state, a state where you are relaxed and your whole system can regenerate.
To draw creatively shifts you naturally into an Alpha state of mind.
It gets even better, with most other activities, which show such profound results, you would have to pay a bundle.
Starting to draw, in contrast, (no pun intended), is very cheap, my guess is, everyone can afford to buy some pencils, eraser and some paper.
Like everything in life, if you haven't done something before, you may think you can't do it. This is actually one of the most common reasons why people don't start drawing. Just be assured, if you have managed to learn to write complex letters, you will be able to learn to draw.
Allow yourself to learn, give it some time, recognize that drawing starts with learning some techniques and how to use your tools ( pencils). The rest will follow naturally, and creativity will take over and expand your skills further.
What You will need:
Pencils, while tools and technologies are constantly evolving, the simple pencil has retained its basic design since its inception.
However, there are many varieties, good and bad ones, always go for quality, and make sure to get at least a 2B and 8B pencil.

Pencils may still be called lead pencils, but they are not made from lead, they are made from graphite and clay, the more graphite, the blacker the lead and the softer the pencil.

Paper: You can draw on anything from ordinary copy paper to a multiplicity of sketchbooks, or a variety of individual textured paper sheets from your art shop.

Rubbers: Ordinary and kneaded rubbers are used for various techniques.

Paper stubs may become handy for more involved techniques for blending and smudging.
Here are some more reasons for the importance of drawing, esp. if you envisage becoming an artist.
Drawing is vital to the creation of your future artworks.
Drawing is used to develop ideas, regardless of subject matter.
To develop sketches, represent tonal areas, lights and shades, plan compositions, record information from on-site sketches as well as create finished artworks.
The traditional theories of art evolved from observation and drawing.
Learning to draw involves learning to see. Being able to see shapes, proportion, tone and line within and around a subject, together with an understanding of basic perspective will form the basis of a good work of art.
This basic knowledge learned from continual practice, will enable you to translate what you see into a visual image on paper.
At the end, what it all means, drawing is an amazing form of creativity free for everyone to use, and if you embrace it, it probably will keep you interested forever and will open doors towards the world of art you would never have expected.
Go on, embrace drawing, you know you want to ......
... and yes, I love drawing and teach drawing ...
Article by Giselle
Copyright © Giselle Luske - All rights reserved
---