Marc Chagall - Portrait - Acrylic by Giselle
Title:

Marc Chagall

- canvas - 46cm x 61cm
$980.00 - to buy the original - please contact
---
To buy this painting as a Card, Print, T-shirt, etc. - click: Marc Chagall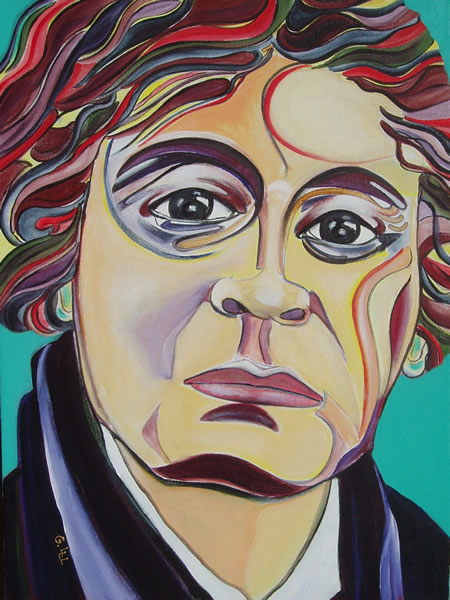 Click here to go to Giselle's Portrait Gallery
Learn to paint - Book an Art Class
---
Marc Chagall was born Mooshie Shagal and his name was rendered in the Russian language as Mark Zakharovich Shagalov.
He was born in Vitebsk, Russia, the oldest of nine children. He had a happy, yet impoverished childhood which appears in references throughout his work.
He started to study painting in 1906 with a local artist Yehuda (Yudl) Pen. - Chagall moved to St. Petersburg only a few months later. There he joined the school of the Society of Art Supporters and studied under Nikolai Roerich, encountering artists of every school and style.
This period was difficult for Chagall — Jewish residents at the time could only live in St. Petersburg with a permit, and he was jailed for a brief time. He remained in St. Petersburg and regularly visited his home town where in 1909 he met his future wife, Bella Rosenfeld.
He left St. Petersburg to settle in Paris, close to the art community of the Montparnasse district. In 1914, he returned to Vitebsk and a year later married his fiancée, Bella.
Chagall became an active participant in the Russian Revolution of 1917. The Soviet Ministry of Culture made him a Commissar of Art for the Vitebsk region, where he founded an art school. He and his family moved to Moscow in 1920 and back to Paris in 1923.
With the Nazi occupation of France during World War II, and the deportation of Jews, the Chagalls fled Paris.
He hid in Marseille and escaped from France through Spain and Portugal. In 1941, the Chagalls settled in the USA.
On September 2, 1944, his beloved Bella, the constant subject of his paintings and companion of his life, died from an illness. Two years later in 1946 he returned to Europe. By 1949 he was working in Provence, France.
He met Virginia Haggard, with whom he had a son, and was also aided by the theatrical commissions he got.
His works of this period are dedicated to love and the joy of life, with curved, sinuous figures. He also began to work in sculpture, ceramics, and stained glass. -
Chagall remarried in 1952 to Valentina Brodsky (whom he called "Vava").
At the age of 97, Marc died in Saint-Paul de Vence, France on March 28, 1985..
---