Jack Nicholson - Portrait - Acrylic by Giselle
Canvas - 46cm x 61cm - $980.00 -

SOLD
---
To buy this painting as a Card or Print, etc. - click Jack Nicholson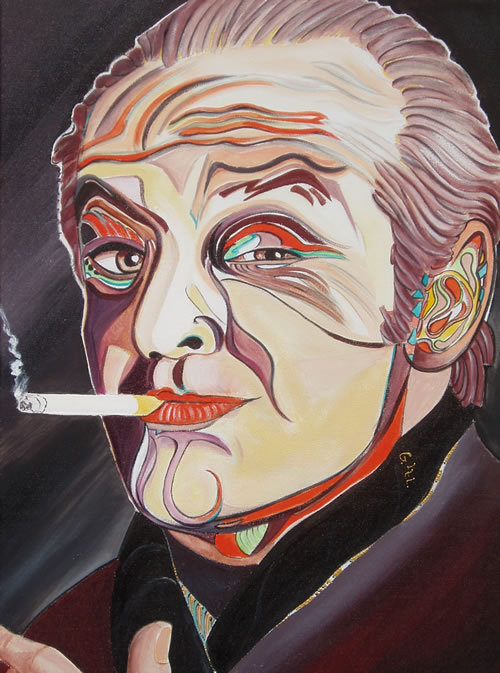 Click here to go to Giselle's Portrait Gallery
Learn to paint - Book an Art Class
---
Jack Nicholson - Actor
Jack Nicholson is an American actor and starred in movies such as Chinatown, One Flew Over The Cuckoo's Nest, The Shining, Batman, As Good As It Gets, The Departed and many others.
Born on April 22nd 1937, Neptune, New Jersey he started his career as a messenger boy for the cartoon unit at MGM, and trained as an actor with a group called the Players Ring Theatre.
He started acting in TV series and had his breakthrough starring in the movie The Cry Baby Killer back in 1958. After that he played in several well known Hollywood movies and won 3 oscars: best actor in a leading role for One Flew Over The Cuckoo's Nest, best actor in a supporting role for Terms Of Endearment and best actor in a leading role for As Good As It Gets.
He was married only once to Sandra Knight (17 June 1962 - 8 August 1968) but has been linked to many of Hollywood's most wanted women. He has 5 acknowledged children with 4 women.
He's famous for his smile and his sunglasses for every occasion.
Among his friends are Danny DeVito, Warren Beatty and the late Marlon Brando.
He is an avid Los Angeles Lakers fan. He never misses a Lakers home game. Because of this, producers on his films must work the shooting schedule around the Lakers' schedule.
Bio provided by : Jack Nicholson Online
---