Original Works of Art - Painting by Giselle
Title: Portrait of an Activist Cow - Save Me
Acrylic on Canvas 60cm x 60 - For Sale $1250 - Contact Giselle
---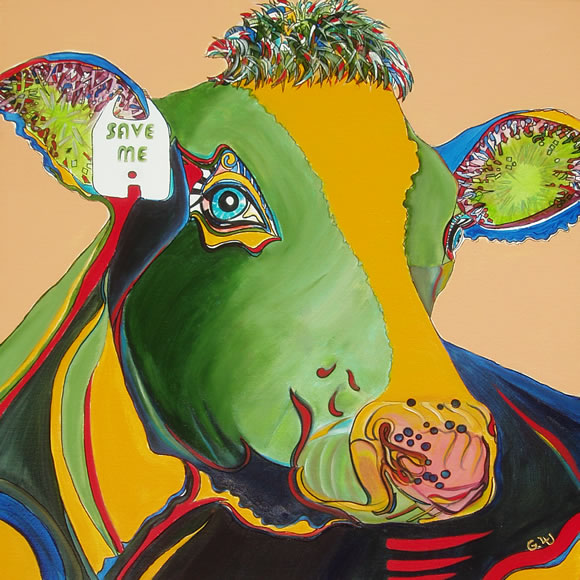 Please protect me - buy me and bring me to a safe place
Let me live with you, I am no trouble at all, I will moo very softly.
- - - - - -
Look deep into my eyes - you are going to sleep - deep down,
and as my moo continues you will go deeper and deeper into a sleep like state,
and when you'll wake up you will be a vegetarian.
---
A message from the artist:
I am proud to be associated with the Activist Cow, it was an honour to paint her portrait.
I wish her all the best in her endeavour and a long and happy life.

Yours faithfully, Giselle
---
Activist Cow Portrait
Save Me
Eat more Vegetables
Don't kill me, I am cute
Adopt Me
I am happy that you like to save the whales, but what about me?
I can swim, if I have to.
I am cuddly and make a nice pet.
Who gives you the right to kill me.
Holy cow.
Don't eat me, I am not as tender as you think.
Don't you know the saying;
"don't cut off the hand which feeds you"?
I am feeding you, don't kill me, and that counts for my husband too.
My milk is yummy !
I am a member of the Animal Rights Foundation, don't I have any rights?
I am innocent, I don't want to die.

... and by the way, I love my husband, he is more than just beef....
he is mine, don't touch him, or no more milk from me.
.. and here is my final word,
"Moooooo - Moooooooooooo "

---