Canungra Artist Edwin Bode - Art Hut
Canungra, "Place of the Owl" -
Scenic Rim Shire - South East Qld
---
Edwin Bode's Art Hut - on the way to Canungra
In Memory of our lovely friend Tom Swan, the Canungra Downs developer and two great locals.
The Art Hut is a replica of the home of Canungra Artist Edwin Bode, presented to the town of Canungra by Tom Swan
About Edwin Bode
Edwin Bode b. 1859 Birmingham, England, UK
Artist (Photographer), (Painter)
Edwin Bode was a painter and photographer who traveled throughout Queensland painting watercolours of homesteads in exchange for board and lodging. He was a longtime resident of Canungra, where he died in 1926.
Burial place : Wonglepong Cemetery, Canungra, Qld.with a sandstone tombstone, which featured a palette and brushes and was inscribed 'Erected by the many friends and admirers of our natural artist, E. Bode, in memory of his glorious work'.
Note* The Art Hut, or former shed used to be located on the new fence line of Giselle and Dieter' block and Tom's newly developed Canungra Downs. It is possible that the artist Bode has done one of his paintings from that spot.
---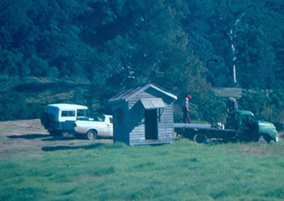 Art Hut ( Shed) at Canungra Downs - 1979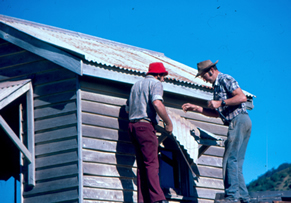 The Art hut is being prepared for transport
---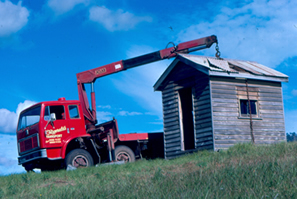 Local Fitzgerald's transport business is getting ready.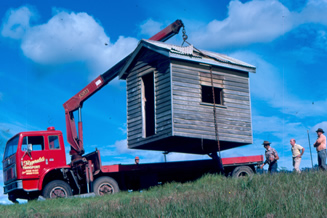 ... we have lift off .. .
---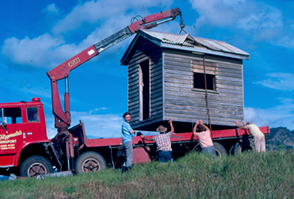 Giselle is making sure the boys are doing a good job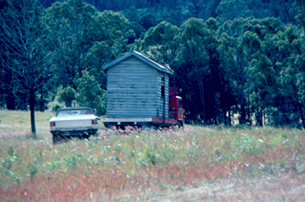 .. bye, bye hut ... on the way to Canungra ...
---
Canungra, and Giselle's Art Studio is only 30min drive from the Gold Coast, and 1 hour from Brisbane.
Canungra can be considered as the central focal point from which to venture out to discover places like Tamborine Mountain, Beechmont, Beaudesert, World Heritage Lamington National Park & the Scenic Rim, with well known places such as O'Reilly's & Binna Burra.
---
To buy Art, visit Giselle's Studio/Gallery, 3155 Beechmont Rd - please e-mail for an appointment
---
Canungra is situated in one of the most beautiful valleys in South East Queensland. It is a well known Village, considered to be the gateway to the Scienic Rim. On the weekend it is particulary busy, and offers great entertainment, such as Markets, great Cafe's and good shopping.
Local business are invited to list for free, please e-mail - Business Listing