Artist Directory - Queensland - Creative Art
From Coolangatta to the Gold Coast to Brisbane
Listings for all art modalities:
Visual arts - drawing - painting - photography - printmaking - textile arts - plastic arts - sculpture - performing arts.
Any type of Artist is welcome on this Artist Directory - Contact Us
Queensland - Qld
Gold Coast:
Giselle - Artist
Gold Coast Hinterland - Witheren - Canungra - Scenic Rim
Giselle, a professional Artist for over 30 years, with vast experience in Watercolour - Acrylic - Graphite and Mix Media.
Giselle has had many Solo and Group exhibitions, both overseas and in Australia, but is now concentrating to work from her Home Art Studio and Gallery, teaching Art - Drawing and Painting to her Art Group.
Original Works of Art for sale - Giselle's Art Studio - Gallery is Open by Appointments only.
Creative Art Classes for beginners and advanced artists, are held on Tuesdays and Wednesdays from 9:30am to 1:00pm.
Giselle is focusing on individual teaching within a class creative environment.
For more information, please click > Giselle's Art Classes
Giselle's Art Studio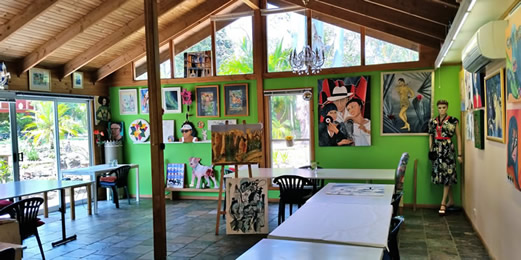 Tallai - Gold Coast Qld
Gayle Reichelt Visual Artist
Multi-media visual artist living and working in Tallai, Gold Coast Queensland. My latest body of work is the Encaustic medium, also known as hot wax painting.
Encaustic is a medium made from molten beeswax, damar resin and pigments that are fused after application into a continuous layer and fixed to a rigid support with heat. Metal tools and special brushes can be used to shape the paint before it cools, or heated metal tools can be used to manipulate the waxonce it has cooled onto the surface. Today, tools such as heat lamps, heat guns. Because wax is used as the pigment binder, encaustics can be sculpted as well as painted. Other materials can be encased or collaged into the surface, or layered, using the encaustic medium to stick them to the surface.

Encaustic Art has been used since 100-300 AD and notably used in the Fayum mummy portraits from Egypt. I also work in Oil, Acrylic and Charcoal, and sometimes Water Colour.
For more information, please see > Gayle Reichelt

Online Art Galleries | Worldwide Art Gallery Guide and Directory
More Online Art Listings:
Art Resources Directory | Art Therapy Directory | Artist Directory | Artist Open Studios |
Call Giselle: 0407 630 776 ... or E-mail