Artist Directory - Queensland - Creative Art
From Coolangatta to the Gold Coast to Brisbane
Listings for all art modalities:
Visual arts - drawing - painting - photography - printmaking - textile arts - plastic arts - sculpture - performing arts.
Queensland - Qld
Gold Coast:
Giselle - Artist
Gold Coast Hinterland - Witheren - Canungra - Scenic Rim
Giselle, a professional Artist for over 30 years, with vast experience in Watercolour - Acrylic - Graphite and Mix Media.
Giselle has had many Solo and Group exhibitions, both overseas and in Australia, but is now concentrating to work from her Home Art Studio and Gallery, teaching Art - Drawing and Painting to her Art Group.
Original Works of Art for sale - Giselle's Art Studio - Gallery is Open by Appointments only.
Creative Art Classes for beginners and advanced artists, are held on Tuesdays and Wednesdays from 9:30am to 1:00pm.
Giselle is focusing on individual teaching within a class creative environment.
For more information, please click > Giselle's Art Classes
Giselle's Art Studio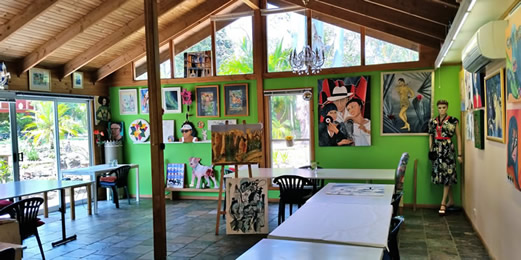 Call Giselle: 0407 630 776 ... or E-mail