The gift of life however dear must sometimes pass away.
Yet love and memories remain eternal gifts that stay.
Jo-Jo
Founder of "Pets For Therapy"
18.09.1989 - 25.10.2005
MANY THANKS GO TO KATRINA, (diversional therapist) at Oz Care Day Respite at Burleigh Heads...
Katrina took it upon herself to speak to journalist Valerie Jones at the Gold Coast Sun concerning "Pets For Therapy's" transport problem and thanks to the article published;
GOLD COAST HOMESTEAD NURSING CENTRE - UPPER COMERA
HAVE DONATED TO PETS FOR THERAPY
a
"STATION WAGON"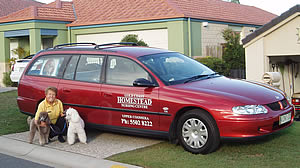 This most generous donation will enable us to keep up our visits and will certainly make life easier transporting
the equipment and doggies.
Also thanks to Bronwyn CEO at Hillview House who also spoke to Valerie and is helping with much needed fund raising
THANK YOU
Brittany loved and was good at writing poetry - believe me when I say she helped me write this "thank you" as is her style
To Pets for Therapy
Heartfelt thanks from all of us
Always in our thoughts
Never will we forget our special friends
Kind thoughts, warm and caring support
---from you has helped to bring healing
---and peace to our souls
Your friendshipis treasured
Our Pink Angel Brittany sends loads of
---hugs and kisses fromthe clouds of heaven
U are very special
To everyone at "Pets for Therapy"
Words cannot express how much we appreciated receiving your condolences. Your thoughtfulness with attending Brittany's Service in true "Pets for Therapy" knock out style. It was the perfect send off that Brittany would have wanted. her love of dogs all dressed up in their party gear (pink and purple) coming to say their good byes. She talked a lot about"Pets for Therapy" over the years - telling people of her special friends who made her 13th birthday o special. Thank you for making Brittany so happy, you and your precious pets offered priceless memories to Brittany. Your attendance at Brittany's send off was the most unforgettable experience. it will remain vivid not only in our memories but in everyone who attended. We were very fortunate in meeting your group and having you as our special friends you have given us the most beautiful everlasting memories that are priceless. Thank you. You
Many thanks, Judy, Ken & Tegan xxxxx