| | |
| --- | --- |
| | Art Tour - Art Travel - Tasmania- |
Day 9: Saturday 24 February 2007
Sadly today we must say goodbye & head for home.
We will make our own way to the airport in time for your departure.
But first let's go back and have a look at last nights
DINNER PICTURES
Launceston - Hotel Earlington - Restaurant
(sorry, my little camera's flash is not that flash - some pictures couldn't be used.)
:: click pictures to enlarge ::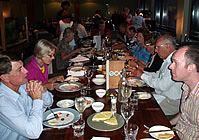 .. and what a beautiful dinner it was - complements to the chef
and we have some drawings and paintings to show ...
even some caricatures ...
and some more results ...
... and now a a poem by Carolyn Gent, dedicated to the art tutor.. Giselle
We wandered through the wilderness

to see the scenic sites.

We looked but didn't really see

'till Giselle showed us through our minds eye


Then our brains switched on and over to the right

Where we saw such beauty in it's most

glorious light.

Perspective now became more clear

Light and shade appeared as we never saw before

and with dexterous florish an eraser produced

innovative highlights.


Oh, Giselle, you are a 'treasure' as Dieter
will confess.

How blessed we've been

To enjoy tis "vunderbarian" experience.

Down here in Tassy's paradise.

Thank you
Carolyn Gent
Thanks you soo much Carolyn ... love from Giselle
Thank you all and good bye everyone - please stay in touch -
.. and a special thanks to our Tour Operator Lynne .. without her this tour wouldn't have happened ..
and obviously without all of you, this tour couldn't have happened either :-)
love .. Giselle and Dieter
back to the tasmania tour menu
... or if you like to see our Germany Art Tour - click here -